RAGGIUNGERE I TUOI OBIETTIVI DI CARRIERA NEL SETTORE DELLO YACHTING
L'International University of Monaco è orgogliosa di offrire il primo percorso specializzato dedicato all'industria dello Yachting. Il nostro Track è stato progettato insieme ai membri del Monaco Yachting Cluster per soddisfare le esigenze specifiche dell'industria dello Yachting al fine di formare profili professionali con competenze manageriali nell'industria nautica.
C'è una crescente domanda di laureati con una conoscenza adeguata del mondo dello Yachting e una prospettiva internazionale.
Il nostro Yachting Track fornisce solide basi metodologiche e si concentra sui processi fondamentali dell'industria dello Yachting.
I Corporate Project con i principali attori di questa industria assicurano un'immersione pratica e molteplici opportunità di networking con i migliori professionisti operanti nel settore.

Durata: Programma di 16 mesi
Lingua: Inglese
Posizione: Monaco
Our students usually mention the unique environment of the Principality of Monaco and the incredible networking opportunities given by IUM, which is particularly true for our Yachting track. Combined with our faculty's research, delivering additional insights on how the industry works, IUM students have a unique competitive advantage; nowhere else the world-leading companies are in constant contact with a university. Students regularly interact with managers and industry leaders, courtesy of our well-established partnerships, ranging from the Monaco Yacht Cluster, the Monaco Yacht Show, professional associations to leading shipyards, brokers, and designers.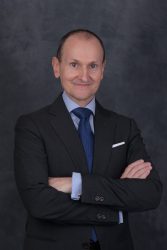 Philippe Klaus
Full Professor of Customer Experience Strategy and Management
IUM AL MONACO YACHT SHOW 2022
Aggiornato 21 November 2022