Magnus A. Frohmann, Danish, and Alain de Ruiter, Dutch, both students in the MSc in Sustainability and Innovation Management program, attended the Monaco Yacht Show a few weeks ago.
The Monaco Yacht Show (MYS) was not just an event; it was a voyage into the future of luxury yachting, and my attendance at MYS2023 was a journey that left an indelible mark on my perception of this industry that I previously knew relatively little about.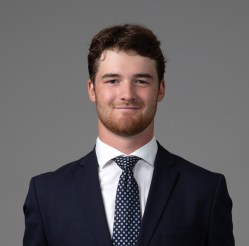 Magnus A. Frohmann
MSc in Sustainability and Innovation Management student
Sustainability and Cutting-edge Innovation
With its unwavering commitment to sustainability and cutting-edge innovation, MYS2023 has redefined the very essence of luxury in the yachting world.
One of the highlights of MYS2023 was the return and maturation of the Sustainability Hub—an exhibition area dedicated to showcasing companies specializing in sustainable technologies aimed at reducing the environmental impact of super-yachts. Located in the expansive main exhibition space, this hub served as an incubator for groundbreaking and eco-friendly solutions, one of which was an IUM startup!
Sustainability Hub
This year, the Sustainability Hub continued to bridge the gap between established companies offering tried-and-true sustainable alternatives and budding start-ups with their forward-thinking ideas. The selection process for participants was carried out in collaboration with the Water Revolution Foundation, ensuring that only those with genuine and viable sustainable solutions graced the exhibition floor.
As I explored the Sustainability Hub, I couldn't help but admire the collective dedication to a greener, more responsible future for the yachting industry.
Gaëlle Tallarida, Managing Director of the MYS, aptly emphasized the show's commitment to sustainability, underlining how the Monaco Yacht Show has been a trailblazer in raising environmental awareness since its pioneering move to join the Carbon Neutral program in 2005. I had the pleasure of talking to her after one of the many sustainability panel discussions that were a part of the show. The Sustainability Hub, now in its second year, stands as a testament to the show's relentless pursuit of eco-friendly alternatives.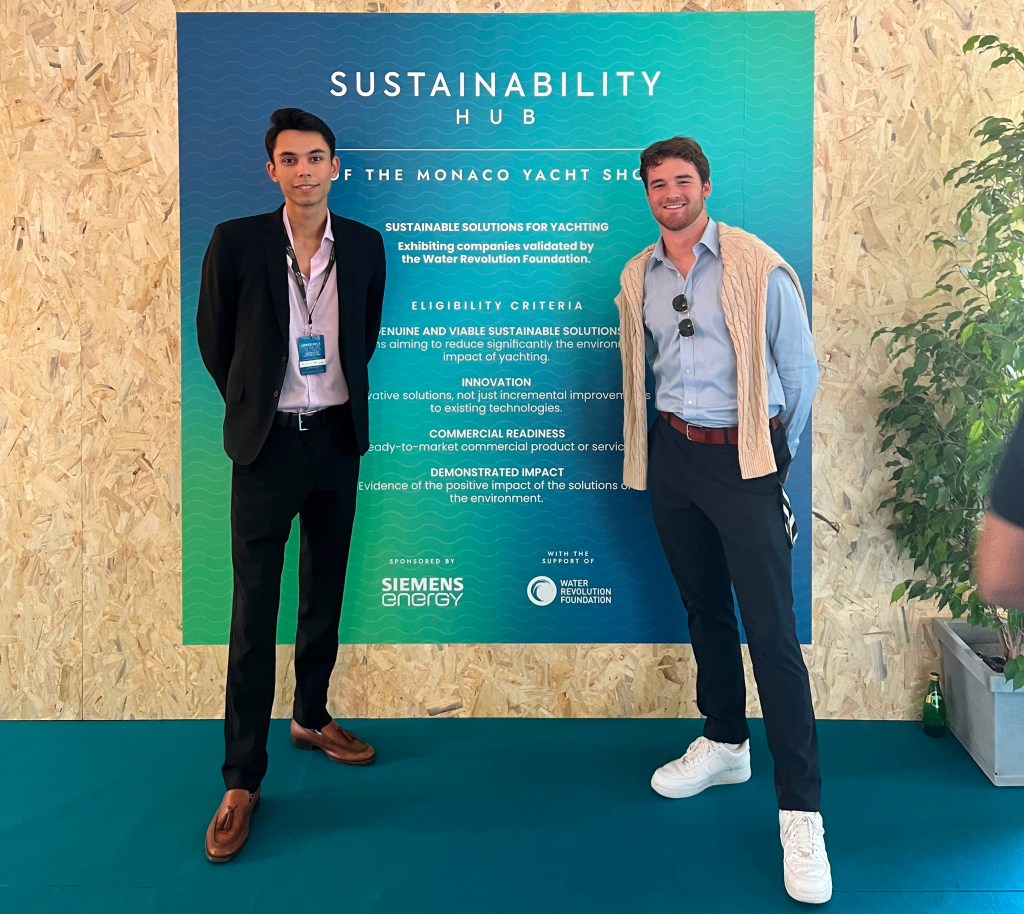 Innovation
The Monaco Yacht Show's partnership with Siemens Energy was, as the sponsor of the Sustainability Hub, an exciting development. This collaboration offered a unique opportunity for all stakeholders to engage with Siemens Energy and delve into the integration of sustainable energy sources and clean fuels into an exclusive Energy Management and Propulsion System designed for electric and hybrid yachts. It's an initiative aimed at not just reducing but actively controlling emissions—a bold step towards a responsible and environmentally friendly approach throughout the yachting industry.
Networking Opportunities
Networking opportunities at MYS2023 were as enriching as they were abundant. Engaging with exhibitors, partners, and fellow attendees allowed me to delve deeper into the sustainability initiatives within the yachting industry. Collaborations, discussions, and shared insights with industry leaders left an indelible mark on my perspective.
I got to meet not only amazing individuals (some of whom are IUM alumni) but also learned an immense amount about the target group of the MYS and its high-end luxury clientele.
A Knowledgeable Experience
In conclusion, my experience at the Monaco Yacht Show was not just a testament to luxury but a testament to the industry's commitment to sustainability. MYS2023 showcased advanced design, sustainability, and cutting-edge technology. It reaffirmed that in an industry as opulent as yachting, embracing sustainability is not just a choice but a collective responsibility—a responsibility that I believe will shape the future of luxury in the yachting world.
The Monaco Yacht Show is a voyage into the future, where innovation, luxury, and sustainability converge. It has left an indelible mark on my journey as a student of Sustainability and Innovation Management, reminding me that the future of luxury lies in the hands of those who are committed to treading a sustainable path.
I am immensely grateful to have been granted access to this show and see it as a huge privilege as one of two ambassadors of the MSc in Sustainability and Innovation Management, which many professionals showed immense interest in.
Written by Magnus A. Frohmann,
Class Representative, MSc Sustainability & Innovation Management
---
For more information, you can consult our website: www.monaco.edu.
Feel free to also contact the Admissions Team directly at admissions@monaco.edu
Updated 13 October 2023