We recently met with Dominique Choquette, from Montreal, and a current MBA student with an engineering and software development background.
I currently work as the Global Vice President of Information Technology at Fix Network World, which operates in the automotive aftermarket industry. I am extremely focused, hard-working, and results-oriented, and I have successfully helped numerous teams and organizations leverage technologies to create value. I am currently enrolled in the full-time MBA program at the International University of Monaco in hopes of learning new skills that will help me progress toward my ambitious professional goals.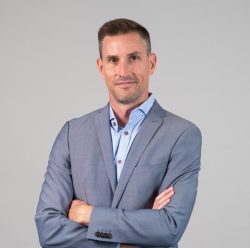 Dominique Choquette
MBA student
Why did you choose to study for an MBA?
I decided to enroll in an MBA to learn new business management skills, meet like-minded individuals that would provide me with new perspectives, and get the experience of living abroad.
What is the most challenging aspect of returning to studies?
Time management is the most challenging aspect. While studying full-time, I continue to work remotely for my Canadian employer, which is in a different time zone, and I moved here with my lovely girlfriend and our attention-craving dog. Juggling between personal life, work, and school is a bit insane sometimes, but I find the experience equally enriching. I wouldn't hesitate to do it again!
Why have you decided to join the Monaco MBA?
Before applying to IUM, I researched several MBA programs throughout Europe. I decided to make this program my ultimate number one, mainly for the condensed and flexible curriculum, mentorship program, entrepreneurial approach, and opportunities for networking.
What are the strong features of this program?
The way in which the content is structured and ordered helps progressively build up the acquired skills, the 4 master class weeks, the final project, and the numerous extra-curricular activities.
Why should an entrepreneur do an MBA?
It is not only to learn and perfect necessary business skills such as strategy, finance, accounting, and marketing. It can also help develop personal and soft skills, such as leadership, critical thinking, problem-solving, and creatively optimizing limited resources.
Entrepreneurs are born or made?
I believe it's both! While natural abilities such as creativity, risk-taking, desire to innovate, and perseverance can help, those abilities alone cannot guarantee success. However, when those natural abilities are combined with learned skills such as the ones taught during the IUM MBA program or acquired through past experiences, the chances of achieving success significantly increase.
---
For more information, you can consult our website: www.monaco.edu. 
Feel free to also contact the Admissions Team directly at admissions@monaco.edu
Updated 14 March 2023