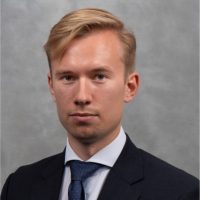 Meet with Sander Saxegaard Helseth, current Norwegian MSc in Finance student.
Before joining IUM, Sander graduated from BI Norwegian Business School and worked part-time for three years at Svea Norge, a financial company group with operations in several European countries.
Why did you choose to study abroad?
Finance is an international industry, and I believe it's helpful to get a bigger perspective to understand what's going on. Especially since finance is so dynamic and agile, you can't sit and wait for insight, so you must actively chase it. It's also a great way to develop yourself as a person and to challenge your comfort zone. You will also meet a lot of interesting people from different backgrounds and cultures and gain new perspectives.
In your opinion, what are the key takeaways of the MSc in Finance program?
My first and perhaps most important key takeaway from the program is the practical approach. We do not only learn the theory, but we're forced to apply what we have learned in real-life cases. This has given me the confidence to enter a very demanding industry straight out of university. I was also lucky to represent IUM in this year's CFA Research Challenge, where my knowledge was really put to the test. Secondly, the compact and dynamic classroom environment. By being selective, IUM ensures top-quality students and faculty, so there will always be enriching discussions across the classroom. I have also got to practice the important soft skills required in most areas of finance.
What skills you acquired during your Bachelor studies at BI are useful for your current Master's studies?
My bachelor's in finance from BI Business School prepared me well for the challenging task I met at IUM. The very practical approach at IUM complemented my already acquired technical skills from BI, which made this experience even better. It was also useful to already have some software experience like Bloomberg and Excel before starting the master.
Which specialization have you chosen? What could you say about it so far?
I chose the Private Equity & Hedge Fund track. It's a fantastic way to learn about the most interesting finance area from professors that have- or currently are practicing the subjects in many cases. In an extremely competitive job market, you need to have an edge, and I really believe this specialization will give me a competitive advantage when entering the job market.
What mindset is needed to succeed in this program?
To succeed in this program, you need to be dedicated, curious, and willing to work hard. IUM allows you to succeed, but you must grab it and make the most of it. There is no free lunch!
In general, what drives you to work towards your goals?
One of my main drivers to reach my goals is competition, even if it's a competition against myself. It's not always about being better than everybody else but clearly define your goals and rewarding success. It has also helped to be conscious in tracking progress, as it will give you confidence and sharpened focus along the way toward the goal.
What's next on your bucket list?
I want to take the skydiving license so I can jump alone. I have already done tandem skydiving and bungee jumps, and I love the adrenaline I get from it. But before that, my focus will be on professional progression.
What is the best business advice you have ever received?
"Don't wait and see what everybody else does. By the time you follow them, you're probably too late." This applies to various areas: investing, education, and many more.
How do you see yourself in 5 years?
In five years, I will create value as an investment professional or as a trusted advisor, hopefully in a Private Equity firm, Investment Bank, or a Real Estate company. My scope is mostly turned towards Norway, but I'm very much willing to explore career opportunities abroad as well.
What advice would you give to a Norwegian Bachelor's student considering the MSc in Finance of IUM?
By combining a BSc from Norway and an MSc from Monaco, you will acquire a strong a valuable profile and attract employers' interest both in Norway and abroad. IUM also ensures that you're ready to tackle any internship or job opportunity and ease the transition from classroom to office. Lastly, grab the opportunity to study abroad while you still can. You will regret giving up on such a fantastic adventure.
---
If you would like more information about MSc in Finance program,please look at our website.
Feel free to also contact the Admissions Team directly at admissions@monaco.edu
Updated 25 April 2022