We recently met with Mehdi Darlis, MSc in International Management Alumnus, currently working as Head of MATTE Films.
What are the strengths of the MSc in International Management program you graduated from 9 years ago?
The strengths were the breadth of the knowledge provided, both from a business and global affairs standpoint. It gives students the ability to look at the world, and business opportunities in general, with a bird's eye view and relies on revenues and sustainability. Another strength is the diversity of students from all over the world, each bringing a fresh and sometimes challenging perspective. My experience at IUM inspired me to publish my thesis as a book, cementing what I had learned into the culture of my homeland.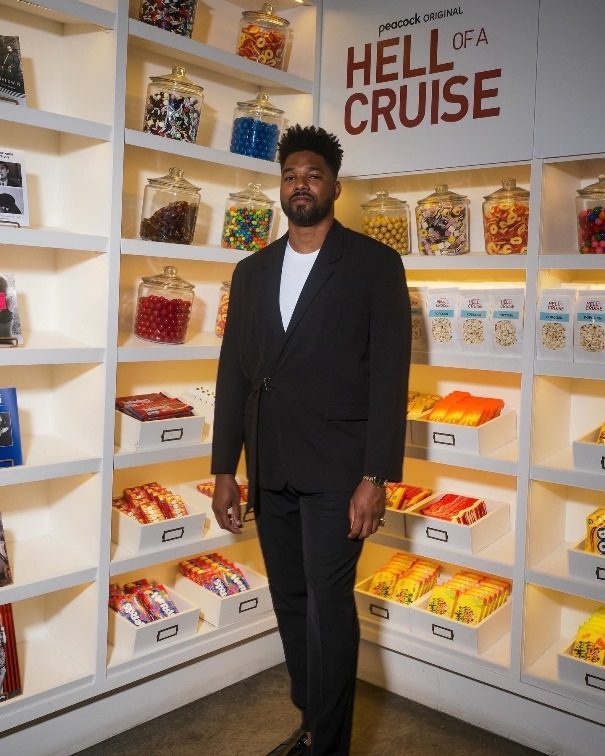 Could you describe your current position?
I am currently the head of the films division of a creative studio based in New York called MATTE projects. When I joined three years ago, my goal was to build an independent movie production company within the studio, with a catalog of intellectual property that would later be sold to buyers worldwide.
What are the main skills needed in your current job?
As a film executive, the primary skills needed are to strategize from a creative, financial, marketing, and communications standpoint to minimize financial risks and ensure returns on investment for every intellectual property we decide to invest in.
What are the challenges and opportunities of the industry you are working in?
The challenges of the industry are its volatility and unpredictability. We can invest a good amount of cash into a project and realize later that another studio is already selling the same story. Late working hours are another challenge – the film industry never stops. We are often producing remotely, worldwide, with time differences. For the most recent film I produced, we had to set up interviews in Tokyo, Sydney, and Beijing within the same week. One of the most significant opportunities of the industry is that content is a continuously booming sector, with demand tripling during the global lockdown and new streamers entering the game each year. People are now watching series on their phones, so we can assume that this industry will never die.
Which tips would you give students who want to enter this field?
The entertainment business, and the film industry, in particular, is very complex as it demands a lot of skills that aren't necessarily connected – from film financing to casting the right actor. My main tip would be to try to get involved in every aspect of the industry, get internships and jobs in each department, from distribution and acquisition to field producing and film development, as a way to make the most effective decision in any situation, and develop strategies based on a certain level of expertise, therefore minimizing financial risks.
You have a non-linear and noteworthy career path: you started in the business field and ended up in the film industry.
– How and why did you transition from business to art?
I was still enrolled at IUM when I experienced my first Cannes Film Festival in 2012 as a visitor, and I instantly fell in love with the film world. I met a few producers who reassured me that I belonged in this industry as a creative with an international business background. I then decided to enter the industry with something personal, where I could use some of my experience and network to balance my lack of expertise in film directing and producing. I opened a production company and partnered with seasoned filmmakers. I directed and produced my first feature documentary, Over the Net: Dream or Illusion?, which incorporated a lot of my personal story as a tennis player who had to give up his dream and figure out a plan B because of a lack of resources. I wanted people around me to understand my failure as a tennis player but also alert and prevent other young players and their parents from the reality behind the tennis tour scenes and the inevitable difficulties and obstacles. The successful film premiered in January 2015 on the number 1 french sports broadcaster: L'equipe 21. The film later opened the Roland Garros final and the French Davis Cup match in Guadeloupe on France Televisions.
– Do you think both worlds are complementary? If yes, in which way?
Both worlds are complementary because your personal experiences, creativity, and emotions make you unique and approach things with original perspectives. The art of storytelling itself, to me, is the backbone of sales, communication, and marketing. Working closely with screenwriters and having been trained in screenwriting allowed me to identify the core of every story and find a way to make people understand my vision and strategy to get there.
Do you think your IUM journey helped you in your current position?
My IUM journey helped me in my current position because it inspired me to enter the film business. In contrast, I may have never become interested in the film business at the Cannes film festival if I wasn't attending IUM nearby Monaco. So I will forever be grateful for that. But it also helped me understand the importance of entrepreneurship, which involves having a 360 awareness of all business administration skills and having the confidence to create businesses on your own with no capital, as I have done while producing my first feature documentary under my production banner, 282 Films.
---
For more information, you can consult our website: www.monaco.edu. 
Feel free to also contact the Admissions Team directly at admissions@monaco.edu
Updated 23 November 2022