The Bachelor's students welcomed Olivier Anrigo, a professional photographer.
"Photography and Climate Change Awareness" is Olivier Anrigo's way of contributing to the world's improvement and wellness.
This photographer, who also describes himself as an explorer, went on several expeditions in Spitsbergen with a mixed team of seven people, thanks to the support of Fondation Prince Albert II de Monaco. On the 5th of April, he came to IUM to share insights about his expeditions in the Marketing and Communication class held by Dr. Jauffret. He also talked about the importance of communication.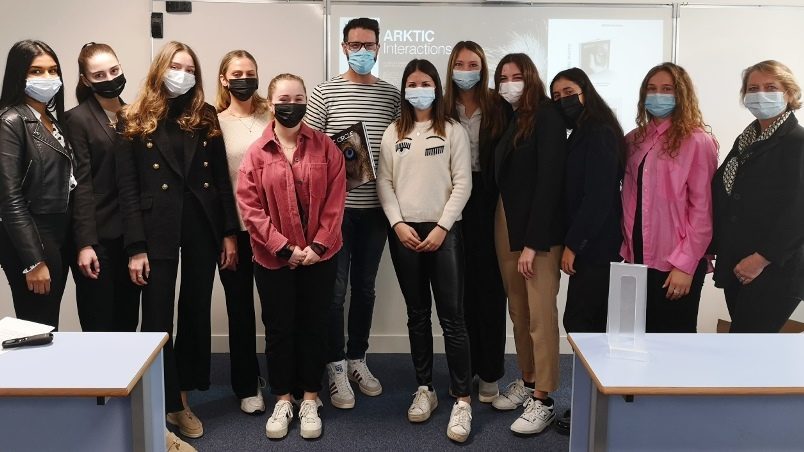 His journey throughout Spitsbergen resulted in some scientific research and a whole program to introduce the polar region to the world:
A book called The Arktic Circle. As said on the cover page, this book depicts memories of the North. I can testify that Mr. Anrigo brings the polar world to us through the pictures he took. All students were amazed by the incredible landscapes and animals!
Several exhibitions. One took place at ESPACE 22 until the end of February, where pictures were printed in very large formats (3 meters per 2 meters). Another one also happened at the Monaco Ocean Week at the end of March, where workshops were organized.
Some documentaries and a film. We learned that the organization behind such shootings is challenging; for instance, particular materials (big and small boats, camera sticks, and big-lensed cameras) were needed to film the animals without disturbing them nor getting attacked.
But Olivier Anrigo did not come to Mrs. Jauffret's class only to talk about his trip and exploration. But he also came to talk about communication.

Communication is key for two reasons:
Communicating about environmental issues is vital to him. But to raise awareness, you need to be heard and seen.
As an artist, communication, public relations, and media are crucial in getting recognized to sustain his creative projects.
As an example, he explained that his book was crowdfunded. Buyers paid before receiving the product. Therefore, he must build a strong community that trusts him and his talent.
He also mentioned that he talked to the local press (Monaco and Nice matins) and television (France TV, France Culture, France 3…).

Finally, Mr. Anrigo also emphasized that partnerships are essential. He has many partners, notably Fondation Albert II. "You need to establish a trustworthy relationship with them in being reliable and good at what you deliver to them. Also, to be consistent with my ecological and environmentally friendly ethics, Arktic Interaction gave 2€ to Foundation Prince Albert II for each pre-ordered book. In addition, the books aren't covered with a plastic film, even though my editors told me to do so."

Insights from Mr. Anrigo were very stimulating. He gave us concrete examples of a good communication strategy, which support the theory seen in class with Dr. Jauffret.

If you are interested in Olivier Anrigo's work or if you want to support his actions, you can visit his social networks.

Written by Sarah Seggiaro, 1st-year bachelor's student
Updated 26 April 2022