We recently met Luxmaan SELLAPPAH SINNATHAMBI, 28 years old, a current MBA student from Sri Lanka.
Since 2018, he has worked for the "Société des Bains de Mer" Monaco as an Operations Manager for the company's multimedia, telephone, and server systems.
After graduating from a computer engineering school, I knew from a very young age that I wanted to make a career in the constantly evolving field of IT.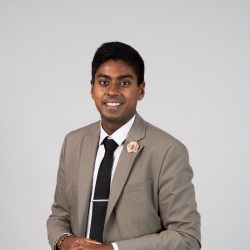 Luxmaan SELLAPPAH SINNATHAMBI
MBA 2023
Why did you choose to study for an MBA?
In a conversation with SBM's top management, I explained that my goal is to do executive management in the company one day.
It was clear that the MBA at IUM was a great career opportunity for me and would benefit my personal and professional development.
I am now doing this MBA in partnership with the Société des Bains de Mer where I am still a part-time employee.
What is the most challenging aspect of returning to studies?
The most challenging aspect of returning to study was juggling study and work. As mentioned, I'm still a part-time employee at Société des Bains de Mer Monaco while doing my MBA.
But I appreciate this rhythm of work which requires a lot of organization!
Why have you decided to join the Monaco MBA?
Firstly, the Monaco MBA was perfect because I needed to do an MBA part-time.
But also, the program is very focused on business speakers from Monaco and the surrounding area.
What are the strong features of this program?
I would say the quality of the teaching, the content of the courses, which is very rich, and the frequency of interaction between students and teachers!
During these exchanges, we learn the most according to each person's background and culture.
Finally, the diversity and seeing students and professionals worldwide allows you to open your mind and learn differently.
---
Please visit our website if you are interested in our MBA program.
Feel free to also contact the Admissions Team directly at admissions@monaco.edu
Updated 14 March 2023