Why should you do an MBA?
The MBA (Master of Business Administration) is a degree that many professionals choose to do since it is for people with a Bachelor's degree and a minimum of 3 years of work experience.
You can choose to do an MBA for different reasons.
For instance, you might want to:
Create your own company or grow your existing company;
Boost your career and aspire for more managerial roles;
Do a career change and get the tools to be able to branch off
An MBA can help you fulfill the following wishes by getting you to:
Enhance your resume and increase earning potential: An MBA degree can help you stand out in a competitive job market, leading to higher salaries and better job opportunities.
Develop advanced business knowledge and skills: An MBA program can help you develop a deep understanding of various business concepts, such as finance, marketing, and strategy… This can enable you to make more informed decisions and effectively manage complex business situations.
Expand your professional network: MBA programs offer opportunities to meet and collaborate with fellow students, alumni, faculty members, and professionals who may be able to provide guidance and support throughout your career.
Improve leadership skills: Many MBA programs include courses that focus on leadership development, allowing you to refine your ability to manage teams and influence stakeholders.
Why should you do an MBA at IUM?
The Economist classifies the Monaco MBA among the 100 best MBAs worldwide (50th in the world, 10th in Europe);
The program is AACSB and AMBA accredited;
There is a small number of students in the MBA class (25/30 students), and every student has a mentor;
IUM provides its students with coaching and mentorship that follows them from start to finish;
You can choose to follow the program full-time or part-time (and therefore can study and work at the same time);
You can choose to follow the program on-site or online.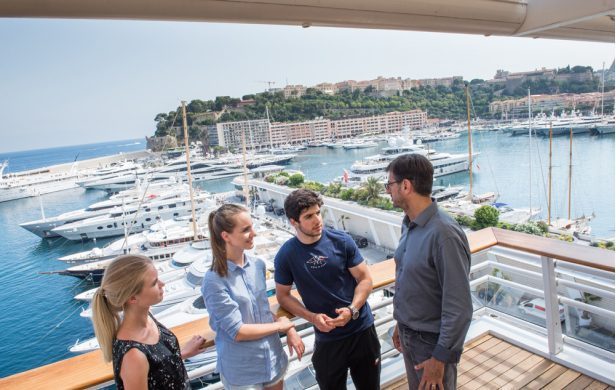 Why an MBA in MONACO?
Connections: Monaco is a hub for international business, with many multinational companies and financial institutions in the principality. Studying in Monaco can provide exposure to this dynamic business environment, allowing you to build connections and gain practical experience in a global context.
Networking events: Monaco has an average of 700 events per year. Networking is incredibly important for MBA students; therefore, living in the city where everything happens is a fantastic opportunity.
Monaco's specialties: The specializations that IUM offers (i.e., Luxury and Finance) are the areas of expertise of Monaco itself. When we hear "Monaco," we think "Finance," we believe "Brands," we think "Luxury," "banks," "entrepreneurship," "yachting," "family businesses," "hospitality," and "luxury tourism." That is why when you hear "MBA," you should think "Monaco," "IUM," and "success."
---
Please visit our website if you are interested in our MBA program.
Feel free to also contact the Admissions Team directly at admissions@monaco.edu
Updated 24 February 2023