The second MasterClass week of the Monaco MBA program began on January 16th.
New and Emerging Trends and Business Models
Although the theme was Career Development and Networking, the week began with eye-opening and thought-provoking courses and seminars around new and emerging trends and business models. The first session of the course on Digital Innovation & Transformation was launched, followed by an equally topical seminar entitled "Shifting the Lens: Embedding sustainability in your business model." The "hot" managerial topics theme continued on the second day, with an engrossing seminar on the "Business challenges of Cybersecurity: The crucial role of leadership in managing cyber risks."
Career Development
The second part of the week took on a different tone, as it was dedicated to networking techniques and cracking the job market. The MBA Career Coach invited numerous senior guests from the fields of executive recruitment, headhunting, and senior HR professionals, such as Dennis de Munck, Head of Talent Acquisition at Ferrari, for mock interviews and roundtable discussions on the recruitment process in international companies; professional readiness and communication strategies; and entrepreneurship and business planning.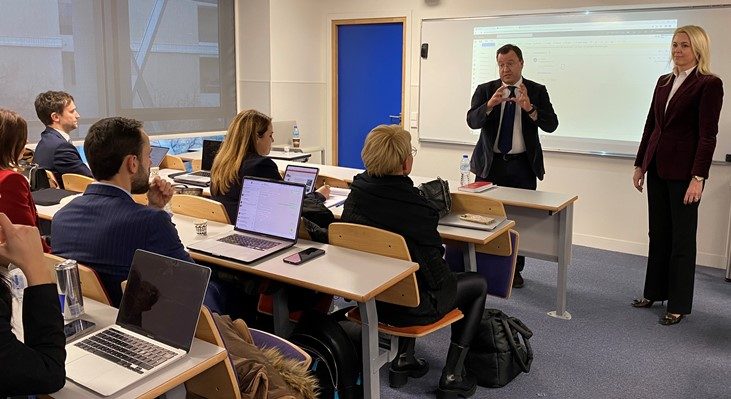 Mentorship Networking Cocktail Party
Notwithstanding the success of the daily activities and seminars, perhaps the week's highlight was the Annual Networking Cocktail held at the Monte Carlo Bay Hotel. Here, current MBAs mingled with MBA alumni (some having graduated at the beginning of this century!) and met their Mentors. The Mentorship Program is an integral element of the Monaco MBA. It encourages and fosters professional relationships and networking between our MBAs and the Monegasque– and even European– business communities.
---
Please visit our website if you are interested in our MBA program.
Feel free to also contact the Admissions Team directly at admissions@monaco.edu
Updated 24 February 2023