Discover the Experiential Luxury Business Through the Monaco Approach

If you and your company have a keen interest in developing a personalized executive program, focusing on Experiential Luxury and Luxury Management, then this program is tailored to your needs.
The IUM's Flagship Custom Program – 'Experiential Luxury: The Monaco Signature' – delivers to Executives World-class content on experiential luxury to understand by providing deep and personalized Insights into your own business and operational models, analyzing Western, wealthy, and ever-changing consumer behaviors and immersion into new digital trends and sustainable challenges and solutions within the growing complexity of the global economy. Using Monaco as the pre-eminent example of success in luxury destination branding and management, participants have the opportunity to live a unique experience, combining theoretical sessions with real-life case studies, immersing themselves in the Principality with extraordinary experiential visits and personalized consultancy. You will gain valuable insights into the trends that matter in the luxury industry while enjoying exclusive visits to numerous luxury establishments in Monaco.
The Five-day custom Program designed for executives and professionals in luxury management across various luxury industries, including Hospitality, Tourism, Cruising and Yachting, Private Banking, Home and Interior Design, Jewellery, Watchmaking, Automotive, etc.
Note: The signature program design is customizable according to your organization's needs, to achieve your desired business transformation in an impactful way, to unleash your people's potential.
PROGRAM OVERVIEW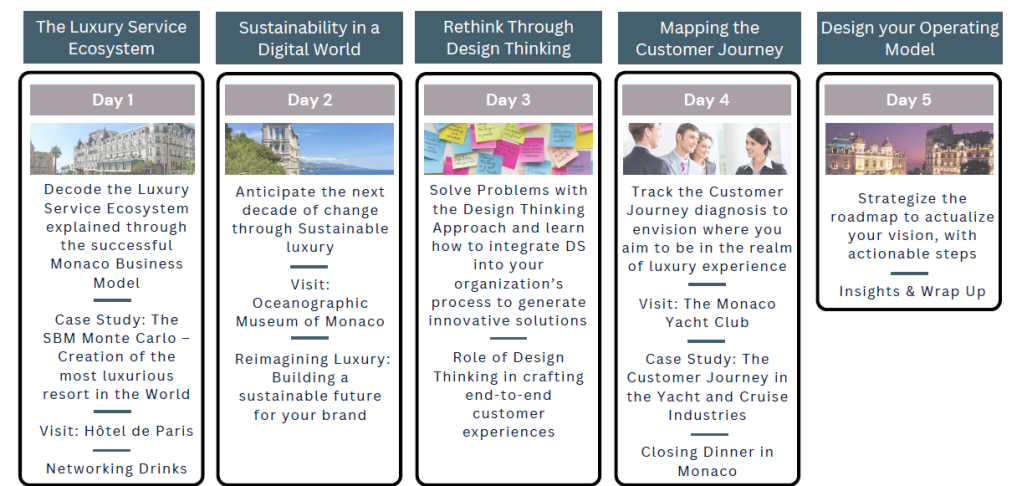 In addition to the 5-day program, we are also offering further workshops on any specific program topic, to dig deeper into your learning, with the dedicated program faculty. These additional workshops can be delivered hybrid, on site, online or in the location of your choice.
PROGRAM OBJECTIVES
– Understand the concept of successful destination branding and marketing as exemplified by the Principality's longstanding, integrated and ever-evolving business model
– Enhance your ability to lead and apply sustainable luxury concepts across your organization
– Understand the Design Thinking approach and how to apply it to your company
– Capture and leverage the pain points along the Ultra High Net Worth Individual's customer journey so as to improve decision-making and implementation
– Re-define your business model based on these findings, and obtain detailed, tailor-made recommendations for your own company, with the help of the faculty
– Create lifelong professional relationships
WHAT TO EXPECT FROM YOUR LEARNING EXPERIENCE?
– Insights from World-Renowned IUM Faculty and Guest Speakers
Learn from IUM's renowned Professors and other academic guest speakers. Benefit from their research-driven insights and personal leadership stories.
– Draft Your Operating Model
From day one, this program is designed to help you build your operating model, using various operational frameworks, all compiled in a toolkit booklet. It concludes with producing a finished draft of your model, which will serve as your guide back in your professional career.
– Exceptional Visits
Seize the opportunity to visit companies, interact with experts, and immerse yourself in the heart of Monaco. Experience unique excursions and local discoveries that make this journey truly exceptional.
– Networking Opportunities
Gain the chance to establish professional connections with executives from luxury and tourism businesses worldwide, opening up valuable networking opportunities.
OUR FACULTY
Our Executive programs are crafted and instructed by a diverse group of scholars and professionals who possess practical, real-world expertise across various domains. These individuals are not only esteemed figures in their respective disciplines; they share the most pertinent insights for business leaders and illustrate how these insights can be effectively utilized to instigate transformation. Additionally, we invite guest speakers who provide contemporary research findings and practical viewpoints, enhancing the interactive and networking dimensions of our educational environment.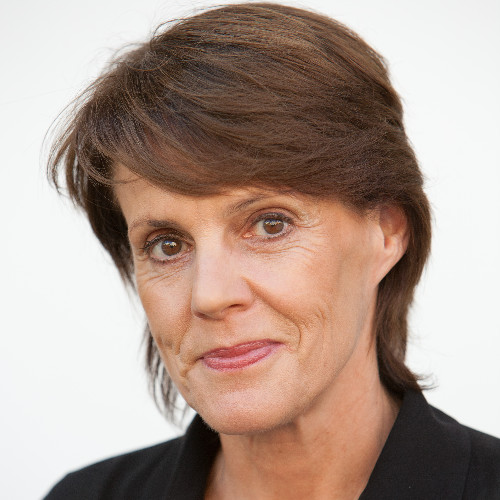 Dr. Marika Taishoff – Program Director – has been Director of the MBA Program at IUM for several years now, where she also teaches Global Strategy, Marketing Strategy, and Luxury Services Management & Marketing. Marika has also designed and delivered Executive Education courses, seminars, and workshops at IUM and elsewhere, as well as hosting executive round-table discussions on a variety of topics in the field of luxury, most recently at the Monaco Symposium on Luxury in 2023. Among her several articles in the field of luxury is "Building and Sustaining Luxury Service Ecosystems", published in the Journal of Business Research in 2022. Before joining IUM in 2009, she had worked at IMD (International Institute for Management Development) in Lausanne, Switzerland; Imperial College Business School in London; and SDA Bocconi in Milan. She is also a prolific and international award-winning case author, including a case series on Monte-Carlo Societe des Bains de Mer. Originally from New York and a Monaco resident for 14 years, Marika completed her undergraduate degree at Barnard College and two Master's degrees at Columbia University. She holds a Doctorate from l'Institut Universitaire de Hautes Etudes Internationales at the Universite de Geneve.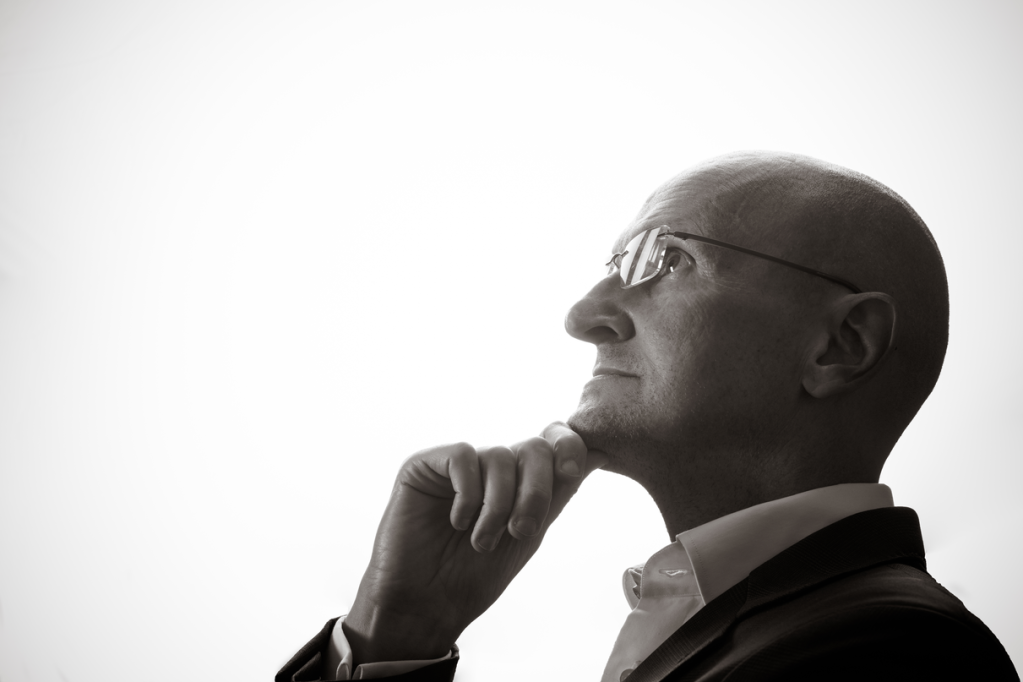 Prof. Dr. Phil Klaus, Professor of Customer Experience Strategy and Management at the International University of Monaco, is widely recognized as a leading global Customer Experience Strategist and the foremost researcher on UHNWI (Ultra-High-Net-Worth Individuals). He has consistently ranked among the top 2% of scientists worldwide, according to Stanford University's Annual World's Top Scientists list for 2019, 2020, 2021, and 2022.
In addition to his academic role, Prof. Klaus serves as the Chairman of the PK Customer Experience Institute and is the founder of Prof. Dr. Phil Klaus & Associates Consulting. He is also the bestselling author of "Measuring Customer Experience." His groundbreaking research has received numerous awards and is featured in prestigious academic journals and books.
With a wealth of experience, Prof. Klaus holds positions as an experienced manager, Non-Executive Director, strategic advisor, and management consultant. He maintains an active international portfolio of Blue-Chip clients, offering expert guidance on customer experience strategy, profit optimization, 'next practice' approaches, and business development.
Partnership visits and Case Studies

Got a Question? Get in touch!
Myriam Arbel
Business Development Manager,
Executive Education
marbel@omneseducation.com
+377 97 98 39 89
Updated 25 November 2023