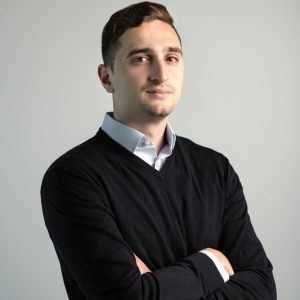 Meet with Etienne Boutan, Bachelor 2016, and co-founder of Heex Technologies.
Following world-class acceleration programs from Microsoft, Nvidia, and Plug and Play, this French entrepreneur and his startup Heex Technologies are getting out of stealth mode to take on the ambitious industry of autonomous driving."
What have you done since you graduated from IUM?
After IUM, I began working in Finance in Monaco for a couple of years, where I accumulated experience in wealth and investment management. I notably started as an analyst in the technology department of Barclays before working my way up to the front office at Société Général and Julius Baer. In 2018, I left banking to start my entrepreneurial journey, and I later co-founded Heex Technologies, a startup offering smart data management for autonomous driving, in March 2019.
What inspired you to set up your own company?

As a sophomore in college, I was lucky enough to spend a year in San Francisco, where I discovered Silicon Valley, which fascinated me about startups and new technologies.
I further deepened that interest by doing things such as becoming a member of the entrepreneurship club of UCLA, interning as a VC analyst for Total Impact Capital, or attending a variety of events such as the startup weekend of Monaco.
Once I graduated, I went into banking thinking that I'd get some working experience until I have a shot at starting something and the opportunity eventually came when one of my co-founders called me up about exploring the field of autonomous driving that had been booming since I was last in the United States.
Then, we went on to fly to Silicon Valley to meet with the industry's main players to understand what problems they were dealing with, and the next thing you know, Heex Technologies was born.
Where does your entrepreneurial spirit derive from?
Before going to college, I played professional basketball in France and Spain, which very much felt like building my first startup.
In fact, both sports and startups are very competitive, and chances to make it to the top are extremely thin. Inevitably, entrepreneurs and athletes are forced to develop mental toughness and often end up with strikingly similar mindsets.
In your opinion, what are the Top 3 skills an entrepreneur should have?
Having a passion. All successful entrepreneurs have a burning desire to solve the problem they're working on, which will allow them to be incredibly curious and precise about everything they do, to put up long hours and go the extra mile, not to mention to be resilient and show grit when things get tough.
Pulling people in. Great entrepreneurs are amazing at attracting the best talents and getting clients and investors to buy into their vision strongly. Having a strong committed team is the number one factor in building a killer company.
Being courageous. Every entrepreneur starts from zero, and that includes taking a lot of risks, constantly dealing with a lot of uncertainties, taking on countless rejections, making many mistakes, and often failing. It's actually tough to be good at something the first time around, but with time, effort, and a lot of perseverance, things end up working out.
Honorable mentions: have a good idea and execute well!
Why did you choose Monaco for your Bachelor's degree?
As a transfer student from UCLA, I wanted to return to Europe. IUM offered the perfect opportunity to do so with an international curriculum in a world-class business school (AMBA accredited).
Among other things, IUM was also well known for career tracks in Finance, and Monaco provided the perfect playground to create a strong professional network.
It's also worth noting that once I graduated, Monaco's startup ecosystem started blossoming with MonacoTech, a Xavier Niel-backed incubator, in 2017.
In your opinion, what are the key takeaways from the Bachelor's program you graduated from?
College isn't the place where you're going to learn most of the things you're going to need to be successful, but it will teach you the right learning framework to apply in the real world.
In fact, the bachelor program was the perfect track to pique my interest in many different areas and to help me get the bigger picture of what running a business would be like, theoretically. It was then on me to go out there and try things out.
Interestingly enough, I noticeably got my first job thanks to my ability to code in VBA, which I was taught as an elective.
Favorite memory about IUM?
I got to make great friends and meet like-minded people, many of whom I'm still very close to today.
What makes you laugh the most?
Memes on the internet.
---
If you would like more information about our Bachelor's program,please look at our website.
Feel free to also contact the Admissions Team directly at admissions@monaco.edu
Updated 25 April 2022