THE INTERNATIONAL UNIVERSITY OF MONACO
IS A PRIVATE INSTITUTION OF HIGHER EDUCATION FOUNDED IN 1986 IN THE PRINCIPALITY OF MONACO.
Its program portfolio includes Bachelor, Master of Science, MBA, and DBA degrees. It focuses mainly on those areas of expertise closely associated with Monaco: the management of high value-added service activities, especially in the luxury and finance sectors. This approach has allowed IUM to differentiate itself and achieve continuous growth, with student enrollment figures increasing from 300 students in 2010 to 850 in 2023. Integration within the OMNES Education, the French leader in private higher education, has undoubtedly contributed to this evolution. Notwithstanding this growth, IUM, much like the Principality of Monaco itself, remains an intimate, human-scale business school with a profoundly multicultural outlook.
By taking advantage of the unique features of its location, IUM provides a learning environment that combines the benefits of small size with connections to the global world, international diversity, and an entrepreneurial spirit.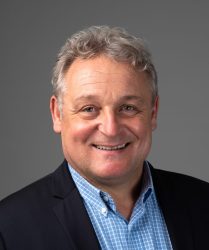 DR. Jean-Philippe MULLER
DEAN
With more than 70 different nationalities in its student body,
IUM encourages interactions and exchanges among students from around the world. Inspired and guided by its mission, IUM has set specific objectives that characterize its vision of its future and of the role it intends to play within its environment:
1. To be recognized locally and internationally as a point of reference in the business and academic communities in the area of high value service activities, especially in Luxury Management, Hospitality & Event Management, and in Financial Services, in both research and in education at the undergraduate, graduate and executive levels.
2. To be a significant actor in the promotion of Corporate Social Responsibility and Sustainable Development in the Luxury, Hospitality and Financial Services sectors.
3. To contribute significantly to the attractiveness of the Principality and to be a flagship institution within the Principality.
4. To promote an innovative pedagogical approach that broadens the boundaries of the classroom by mobilizing project based and experiential learning directly with a host of organizations.
5. To prepare and train highly sought-after practitioners in Luxury, Hospitality and Financial Services, hired at graduation, and to establish an influential and active alumni network which is a source of added value to firms in these areas.
EDUCATIONAL PHILOSOPHY
IUM seeks to educate and prepare students for successful careers in the business world.
The University achieves this objective through the study of a comprehensive academic curriculum in an environment that integrates theory, research, and application. A faculty body composed of both scholars and practitioners guides students through their academic programs so that they can learn and understand how formal knowledge and practice operate to inform and enrich each other.
IUM has developed a teaching philosophy based on five learning principles:
Individual attention: Interactive learning, online support, and small classes accommodate a variety of learning styles, with timely formative feedback reinforcing the learning process and personal development.
Balance of theory and application: With both academics and professionals using innovative teaching techniques and online technologies based around lectures, case studies, group projects, and business simulations, students are readily able to apply management theories and models in real-life settings.
Active learning: Professors create a dynamic, interactive, hands-on learning environment that encourages and expects active engagement from students. Case studies, class discussion, debate, and online forums are commonly used across the curriculum to enhance students' analytical, creative and problem-solving skills.
Cooperative and collaborative learning: Regular group projects allow students to apply their knowledge to new situations while developing their leadership, communication, and teamwork skills.
Multicultural learning: Building on the cultural diversity of the student body and faculty, students learn to respect cultural diversity and to negotiate and capitalize on the richness that different perspectives bring to management decisions.
IUM's instructional methodology emphasizes the integration of various disciplines and skills through interdisciplinary projects and assignments, as well as a practical approach, real-world applications, and experiential learning.
The University integrates learning technology in its teaching through IUM's online course platform. This tool allows students to easily access course materials, interact with instructors and classmates, and complete coursework online and in any location.
Updated 21 April 2023