For the academic year 2024-2025, the BBA program offers a structured progression. The first year is dedicated to mastering the fundamentals of business and management. In the second year, students have the option to embark on enriching study abroad experiences for a semester or choose from a variety of elective courses. The third year is when students will select their specialization, allowing for a focused dive into their chosen area of expertise.
YEAR 1 – FUNDAMENTALS OF BUSINESS AND MANAGEMENT
Core Courses (Semesters 1 & 2)
Global Business Economics
International Business
People Management (HR) and Organizational Behavior
Marketing
Managerial Accounting
Digital Transformation in Business
Effective Business Communication
Applied Quantitative Methods (Tools)
Ethics in Business Decision Making
Experiential Learning in Business
Optional Internship
YEAR 2 – FUNCTIONAL KNOWLEDGE AND INTERNATIONAL EXPERIENCE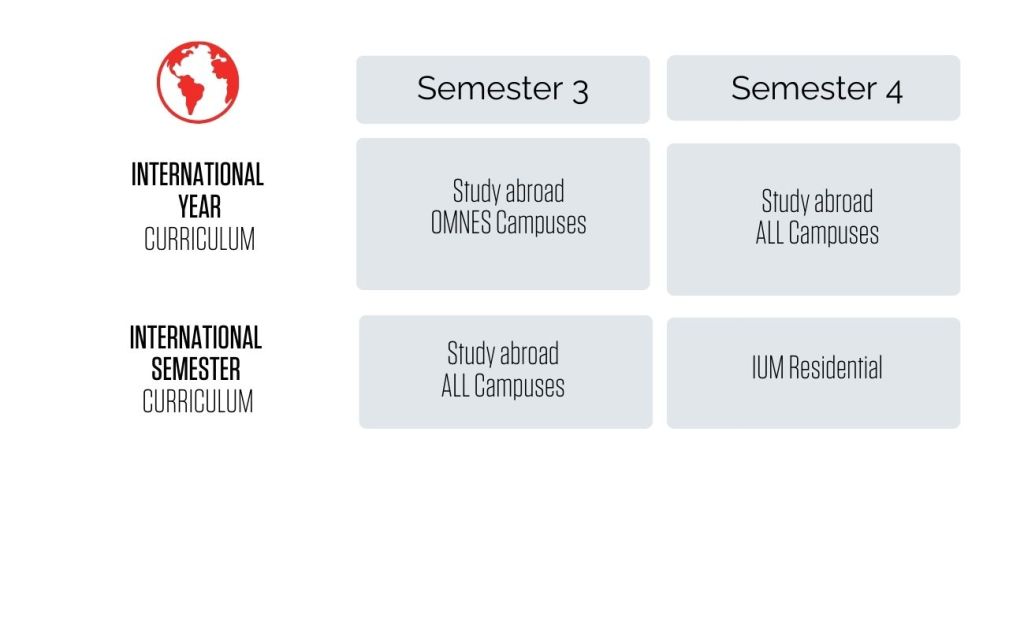 IUM RESIDENTIAL COURSES
Sales and Negotiations
Business Law
Corporate Finance
Sustainable Business
Experiential Learning in Business
Foundational Program course 1
Foundational Program course 2
Optional Internship
OMNES CAMPUSES
P A R I S , LY O N , B O R D E A U X ,
B E A U N E , C H A M B É R Y, R E N N E S ,
M A R S E I L L E , G E N E V A ,
L A U S A N N E , L O N D O N , M U N I C H ,
S A N F R A N C I S C O , A B I D J A N ,
B A R C E L O N A
YEAR 3 – CHOOSING A SPECIALIZATION
Semester 5: Strategic Thinking and Specialization
Core Module 7: Strategy and Global development
Specializations:
Global Business Management
Communication and Event Management
Luxury Marketing, Sales and Services
Sports Business Management
International Finance
Luxury Tourism & Hospitality
Digital Business Development
Apprenticeship Track : MONACO BANKING AND FINANCIAL SERVICES
Semester 6: Company Immersion
4-6 month internship in Monaco or abroad
MEET YOUR CAREER COACH
INTERNATIONAL BUSINESS DAYS
BRANDING AND SELLING YOUR PROFILE
These workshops are specifically designed to support the internship/ job search efforts of students and alumni.
Students can participate in several activities :
Thematic Conferences
when both recruiters and top managers speak about industry trends and talent recruitment challenges
Company presentations
when operational managers and HR managers present their company and their opportunities for fresh graduates
Speed Biz-Dating Sessions
when pre-selected students have 10 min to present themselves and convince company representatives on their motivation and interest in the company
Career workshops
that describe career paths and /or concretely help students in their internship or job search strategies
Updated 7 November 2023